Beer with Dessert? But of Course.
The Starr Conspiracy has a built-in keg in the front office area. We enjoy a good beer. We're not saying that's why we hired Judge Howell, a bona fide beer expert and slightly obsessed home brewer, as an accounts manager. But it didn't hurt his job chances, either. Here are Judge's well-considered beer pairings for a five-course meal, complete with commentary and a little extra something to heighten the offering for each course.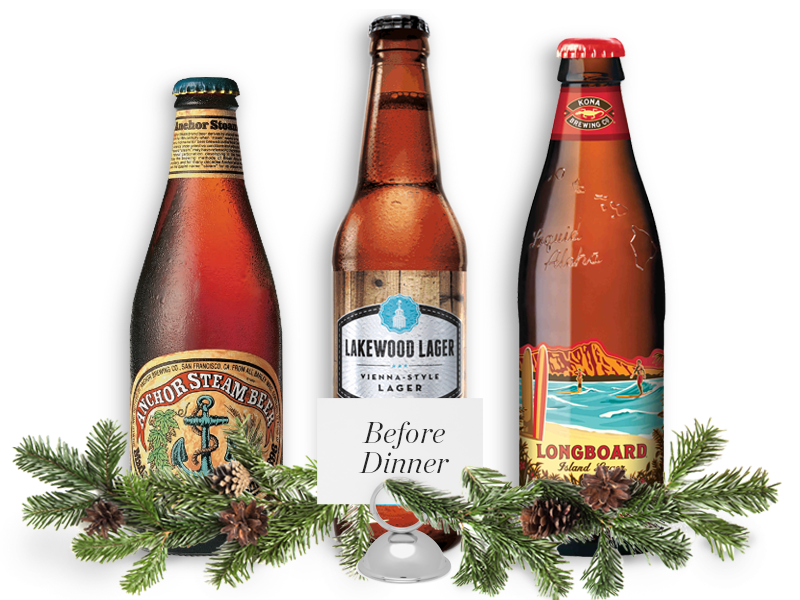 Lager or pilsner
Anchor Steam

(Anchor Brewing Company, San Francisco, Calif.)

Lakewood Lager

(Lakewood Brewing Company, Dallas, Texas)

Longboard Island Lager

(Kona Brewing Company, Kailua Kona, Hawaii)
Analysis
Start the evening by introducing your guests to a nice light-bodied lager or pilsner. The goal of this first beer is to arouse appetites and slowly awaken the senses.
Bonus
If you want to really wow your guests, try a nice tripel. The flavors won't be overwhelming, and the elevated alcohol level will loosen up your guests.
Suggested tripels:
Trinity Tripel (Community Beer Company, Dallas, Texas)
Marin Tripel Dipsea Belgian Style Ale (Marin Brewing Company, Larkspur, Calif.)
Golden Monkey (Victory Brewing Company, Downington, Penn.)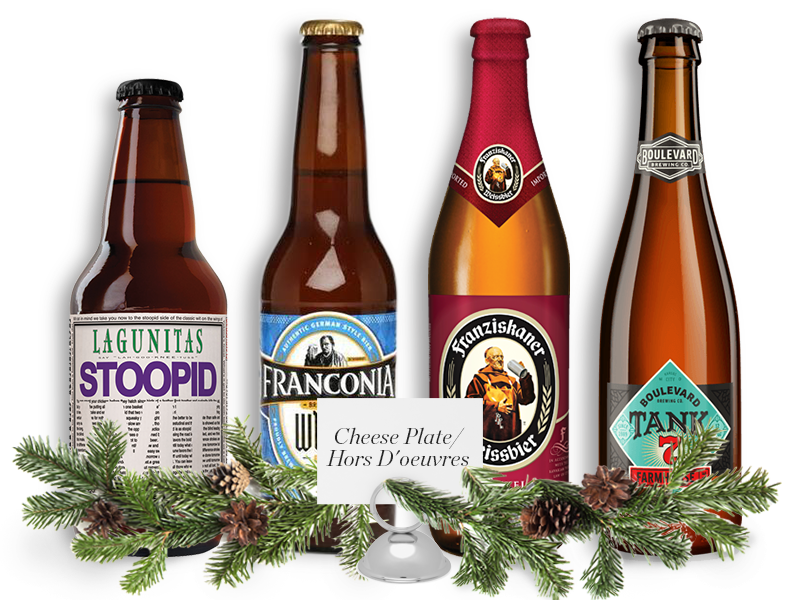 Witbier/hefeweizen or saision
Stoopid Wit

(Lagunitas Brewing Company, Petaluma, Calif.)

Franconia Wheat

(Franconia Brewing Company, McKinney, Texas)

Franziskaner Hefe-Weisse

(Spaten-Franziskaner-Bräu, Germany)

Tank 7 Farmhouse Ale

(Boulevard Brewing Company, Kansas City, Mo.)
Analysis
As your guests snack on cheeses or hors d'oeuvres, provide them with a nice Belgian witbier or French saison. The Belgian offering will bring notes of fruit to the palate, while the French will bring a twang and farmhouse flavors.
Bonus
If you're feeling adventurous, introduce your guests to a sour beer. A sour beer has been purposely brewed for a tart taste. It will pair nicely with sweet cheese. A word to the wise here: Sours are a bit of an acquired taste, so be familiar with the beer you choose and know your audience.
Suggested sours:
Petite Golden Sour (Collective Brewing Company, Fort Worth, Texas)
Bretta Weisse (Firestone Walker, Paso Robles, Calif.)
Raspberry Provincial (Funkwerks, Fort Collins, Colo.)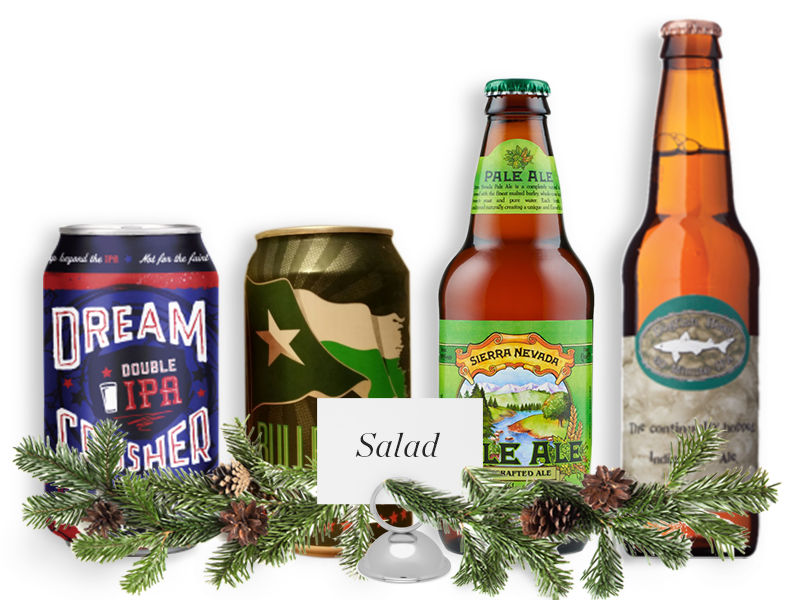 Pale ale or IPA
Dream Crusher

(Deep Ellum Brewing Company, Dallas, Texas)

Bulletproof Texas Pale Ale

(Audacity Brew House, Denton, Texas)

Pale Ale OR Torpedo

(Sierra Nevada Brewing Company, Chico, Calif.)

60 Minute IPA

(Dogfish Head Craft Brewery, Milton, Del.)
Analysis
When serving your salad, kick things up a notch with a moderate level of hops. The hoppy characteristics in either a pale ale or the lighter IPA will pair nicely with a salad, without overwhelming any flavors.
Bonus
If you're feeling creative, you can even create your salad dressing with your favorite hoppy beer.
IPA Vinaigrette
3 oz. of your favorite IPA (or pale ale)
1 tbsp. Vidalia onion, minced
1 tsp. orange zest, grated
1 tbsp. raw honey
1 tbsp. spicy mustard
4 tbsp. extra virgin olive oil
1 tsp. kosher salt
Freshly ground pepper to taste
In a food processor or blender, combine all ingredients except the oil. Slowly add the olive oil and process until mixture is well combined. Toss with your favorite greens and pile on your favorite toppings.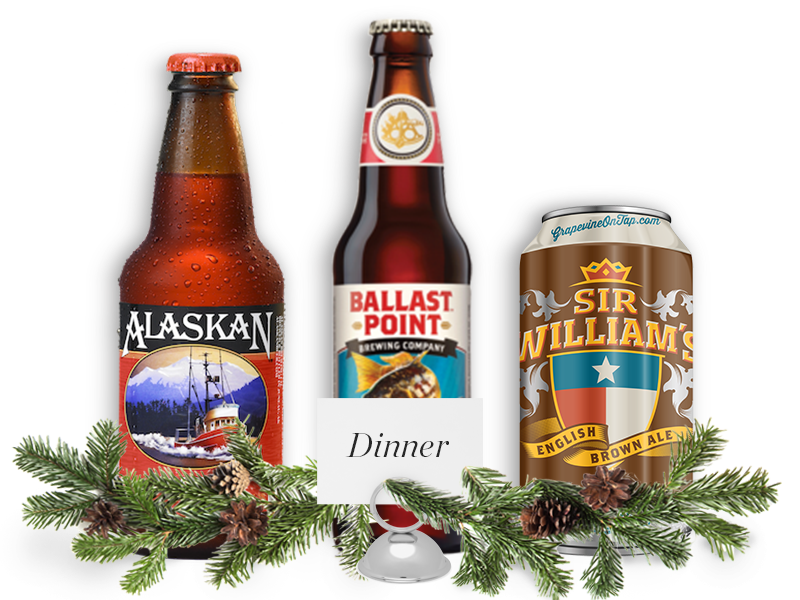 Amber or brown ale
Alaskan Amber

(Alaskan Brewing Company, Juneau, Alaska)

California Amber

(Ballast Point Brewing Company, San Diego, Calif.)

Sir William's English Brown Ale

(Grapevine Craft Brewery, Grapevine, Texas)
Analysis
You could go in a lot of directions for the beer you pair with your main course. You don't want something overpowering, but you want it to have enough flavors to complement the meal. An amber or brown ale will do the job here.
Bonus
If you still have pumpkin beer leftover from Thanksgiving, that will give a nice pairing of flavors to the meal.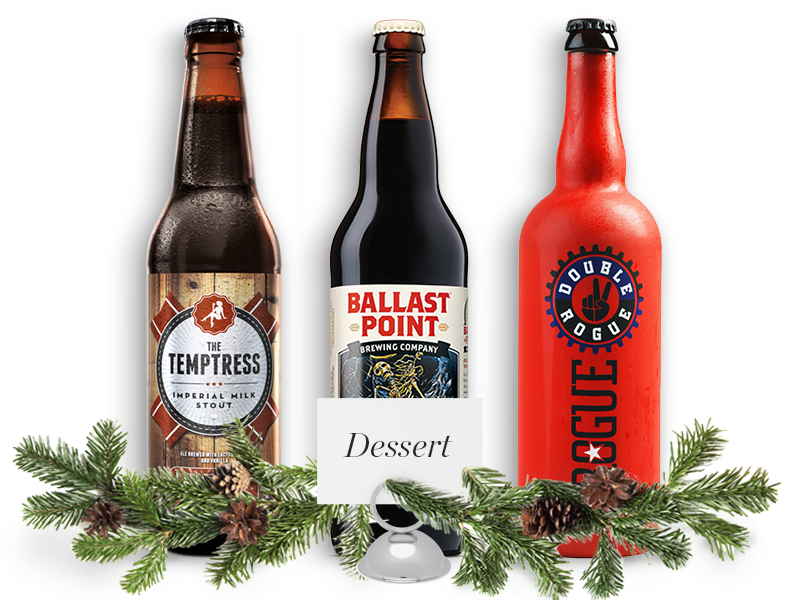 Sweet stout
The Temptress

(Lakewood Brewing Company, Dallas, Texas)

Victory at Sea

(Ballast Point Brewing Company, San Diego, Calif.)

Rogue Double Chocolate Stout — Also great for floats and milkshakes

(Rogue Ales, Newport, Ore.)
Analysis
In our expert's opinion, this is the best course with which to pair a beer. Several rich, full porters and stouts will complement any dessert. However, the last thing you want is to kill a beer with a dessert that's too sweet. So be sure your beer is sweeter than your dessert.
Bonus
Beer for dessert!? You bet. Try a beer float or shake!
Chocolate Chip Stout Milk Shake (Serves 2)
3 c. vanilla ice cream
1 c. dark chocolate chips
1 c. chocolate stout
Add all ingredients to a blender. Blend until combined. Serve immediately.